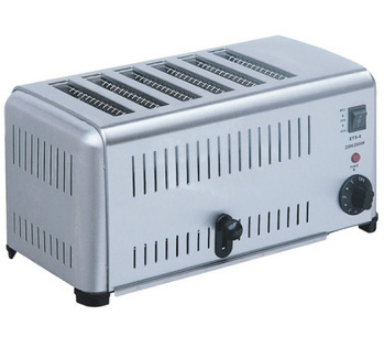 6-Slice Electric Bread Toaster
SKU 00021
Product Details
Good Quality Electric Toaster (6 Slices)
Load 6 pieces at a time with timer

Dimensions : 460 x 210 x 225 mm
Power consumption : 3 kw
Voltage : 220 v
Six slice toaster (Electric) is a simple and user-friendly kitchen appliance. Use it to lightly cook slices of bread so that they are darker, crispier, and tastier. First, you'll need to adjust the knob to choose how dark you want your toast. Then, slide your toast into the toasting slots and depress the lever on the front of the appliance. Wait for the toast to cook, and keep your nose open to make sure that it isn't burning. When the lever pops back up, the toast is done.
How To Use & Precautions:
How to Clean a Toaster :
Toasters and other appliances should not be washed in soap and water. Submerging an electrical appliance in water can potentially electrocute you and/or damage the product. The outside of a toaster should be cleaned with a damp cloth, as outlined in
Sometimes a lever controls more than one slot, so it would be more efficient to put the two slices in the slots controlled by the same lever.
The toaster always stops cooking when it pops up, but I wouldn't leave it too long otherwise your toast will go cold!
Putting toppings on before toasting could do serious damage. Add toppings once your bread is toasted.
*non returnable product. (check our return policy at checkout page)
Order Processing Time : 2-3 days* Depends on Product availability & other factors.

For Any Kind Of Query Mail Us : marketing@shardaequip.com
Save this product for later